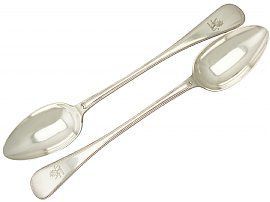 AC Silver is delighted to offer for sale an extensive range of silver spoons for sale. The comprehensive collection includes sterling silver teaspoons, caddy spoons, mote spoons, basting spoons and many more examples. caddy spoons
This large collection of silver spoons features a variety of English and international examples with pieces crafted during the Georgian, the Victorian and Edwardian eras, as well as some twentieth century vintage items.
Our array of British flatware incorporates iconic patterns including: Old English, Hanoverian, Fiddle, Kings and Trefid. Variations of these classic patterns incorporate examples from the Art Deco, Art Nouveau and Arts & Crafts movements, with each pattern defining the aforementioned era they represent.
Learn more about the history of the spoon