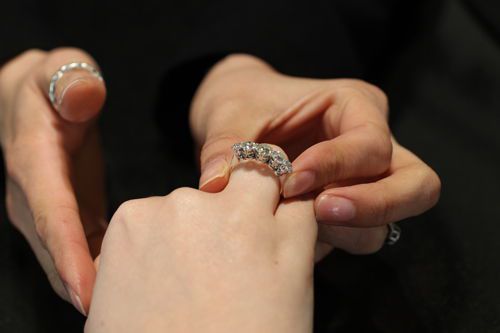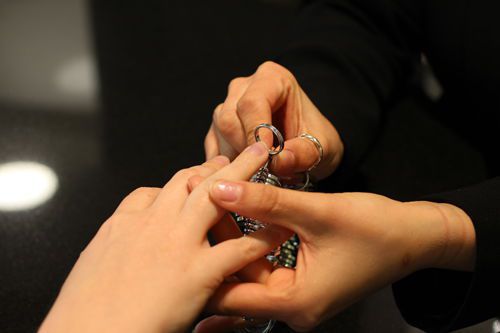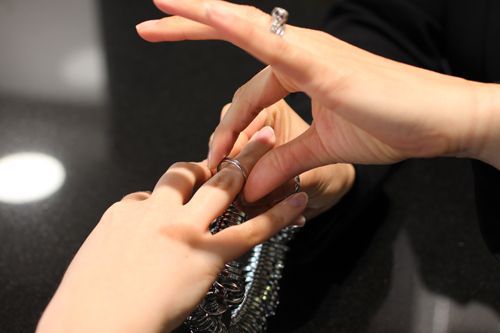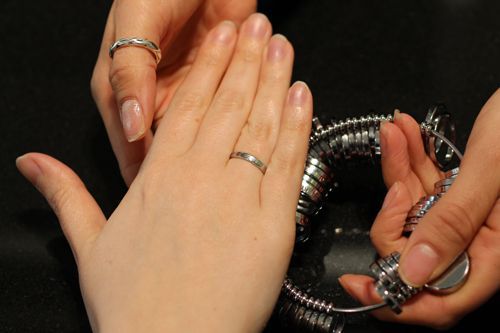 In the majority of cases rings on our website can be sized to meet personal requirements; There are in some instances exclusions, dependant on how diamonds and gemstones are set.
To gain a correct finger size visit your local jeweller, a reputable business will always be happy to assist.
Measuring Your Ring Size at Home
Many people will try the method of cutting a thin strip of paper, wrapping the paper around the finger, making a mark and then measuring with ruler. This way you can find out your size in millimetres then convert into the more recognisable size using a guide. This way supplies you with a good starting point, however consideration should be given to the design of the piece.
Things to Consider
Band / Shank Width - Wide bands such as wedding rings will always grip your finger more than a slender solitaire. The size of the shank does affect how the ring will feel and a jeweller will have ring gauges in narrow and broader examples to emulate the chosen rings shank and determine the perfect fit. The greater the depth of the shank, the greater the impact on the size and this may mean you need to go a ring size up.
Temperature - Your fingers are generally smaller in the morning so it is advisable to measure your ring size later in the day when you fingers are warmer (aim for a normal body temperature). It may make a lot of difference considering a cold finger can sometimes be half a size smaller; if this smaller size was used, come the summer the ring would become rather tight and may cause you some discomfort.
Large Cocktail Rings - Rings which are 'heavy on top' I would always recommend going for a 'snugger' fit; this should minimise and reduce "spinning".
A sign of a good fit is when the ring sits neatly and needs a little "wiggle" to over the knuckle to remove.
An Existing Ring - If you have a ring you already know fits and is of a similar design and width you can also have this measured on a jewellery 'ring stick' (otherwise known as a mandrel sizing tool), that way you can always surprise a loved one!
Due to the factors mentioned above we would certainly recommend getting a fully qualified member of staff at your jewellers to measure your ring size.
Ring Size Conversion Chart
Please see chart below for approx. size conversions
| | | |
| --- | --- | --- |
| UK SIZES | USA SIZES | Circumference MM |
| A | 1/2 | 37.54 |
| A 1/2 | 3/4 | 38.26 |
| B | 1 | 38.86 |
| B 1/2 | 1 1/4 | 39.58 |
| C | 1 1/2 | 40.15 |
| C 1/2 | 1 3/4 | 40.84 |
| D | 2 | 41.5 |
| D 1/2 | 2 1/4 | 42.13 |
| E | 2 1/2 | 42.76 |
| E 1/2 | 2 3/4 | 43.45 |
| F | 3 | 44.14 |
| F 1/2 | 3 1/8 | 44.45 |
| F 3/4 | 3 1/4 | 44.77 |
| G | 3 3/8 | 45.11 |
| G 1/4 | 3 1/2 | 45.4 |
| G 1/2 | 3 5/8 | 45.74 |
| H | 3 3/4 | 46.02 |
| H 1/2 | 4 | 46.68 |
| I | 4 1/4 | 47.25 |
| I 1/2 | 4 1/2 | 47.97 |
| J | 4 5/8 | 48.38 |
| J 1/4 | 4 3/4 | 48.79 |
| J 1/2 | 5 | 49.32 |
| K | 5 1/8 | 49.64 |
| K 1/4 | 5 1/4 | 49.95 |
| K 1/2 | 5 3/8 | 50.27 |
| L | 5 1/2 | 50.58 |
| L 1/4 | 5 3/4 | 51.21 |
| L 1/2 | 5 7/8 | 51.55 |
| M | 6 | 51.87 |
| M 1/2 | 6 1/4 | 52.5 |
| N | 6 1/2 | 53.16 |
| N 1/2 | 6 3/4 | 53.82 |
| O | 7 | 54.51 |
| O 1/2 | 7 1/4 | 54.82 |
| P | 7 1/2 | 55.76 |
| P 1/2 | 7 3/4 | 56.45 |
| Q | 8 | 57.15 |
| Q 1/2 | 8 1/4 | 57.65 |
| Q 3/4 | 8 1/2 | 58.21 |
| R | 8 5/8 | 58.47 |
| R 1/4 | 8 3/4 | 58.72 |
| R 1/2 | 8 7/8 | 59.06 |
| R 3/4 | 9 | 59.34 |
| S | 9 1/8 | 60 |
| S 1/4 | 9 1/4 | 60.38 |
| S 1/2 | 9 3/8 | 60.66 |
| S 3/4 | 9 1/2 | 60.98 |
| T | 9 5/8 | 61.29 |
| T 1/4 | 9 3/4 | 61.64 |
| T 1/2 | 10 | 62.33 |
| U | 10 1/4 | 62.89 |
| U 1/2 | 10 1/2 | 63.46 |
| V | 10 5/8 | 63.84 |
| V 1/4 | 10 3/4 | 64.21 |
| V 1/2 | 11 | 64.97 |
| W | 11 1/8 | 65.22 |
| W 1/4 | 11 1/4 | 65.5 |
| W 1/2 | 11 3/8 | 65.78 |
| W 3/4 | 11 1/2 | 66.22 |
| X | 11 5/8 | 66.54 |
| X 1/4 | 11 3/4 | 66.73 |
| X 1/2 | 11 7/8 | 66.92 |
| Y | 12 | 67.51 |
| Y 1/2 | 12 1/4 | 68.14 |
| Z | 12 1/2 | 68.77 |
| Z +1/2 | 12 3/4 | 69.43 |
| Z+1 | 13 | 70.15 |
| Z+1.5 | 13.5 | 71 |
| Z+2 | - | 71.28 |
| Z+2.5 | - | 72 |
| Z+3 | - | 72.45 |
| Z+3.5 | - | 73.01 |
| Z+4 | - | 73.73 |
| Z+4.5 | - | 73.98 |
| Z+5 | - | 74.99 |
| Z+6 | - | 76.25 |