Tea History
Teapots have a long history within civilization; containers for tea have been found in tombs in China dating from the Han dynasty, 206 BC – 220 AD. It was not until the Song Dynasty (960-1279 A.D) that compounded iron ore was incorporated into the original clay teapots for colourisation.
The common perception tea is as an English tradition, however Europe lagged significantly behind the East in adopting the practice of taking tea. It wasn't introduced until the 16th century, when both Dutch and Portuguese traders introduced the concept of the infusion of spices and tea leaves with water as both a remedy for illness and for the purposes of refreshment.
It was the marriage of Charles II to Catherine of Braganza, Portugal in 1662 that brought tea to the Royal Court in England. Initially it was Catherine's personal taste that instigated tea drinking amongst the aristocracy, in addition to Bombay (Mumbai) being gifted to Charles as part of Catherine's dowry. Charles therefore directly facilitated trade via the port of Bombay and the East India Company, transporting tea from Assam, and other goods to Britain.
Other records also evidence the custom of tea drinking in Britain during this time. The diary of Samuel Pepys for examples, talks of drinking tea in 1660. At this time, tea was priced at 60 shillings per pound.
Tea was heavily taxed until 1784 when William Pit the Younger slashed the levy, making tea more affordable to the masses. Prior to this, tea was exclusive to the upper echelons of society, as it was a luxury that was inconceivable to most of the population.
Silver Teapot History
The first ever recorded silver teapot was made in England around 1670 as a gift for the East India Company from George, Lord Berkley. The teapot was inscribed "This silver tea Pott was presented to the Comittee of the East India Company by the Right Hono George Ld Berkely of Berkeley Castle. A member of that Honourable and worthy Society and A true hearty Lover of them. 1670."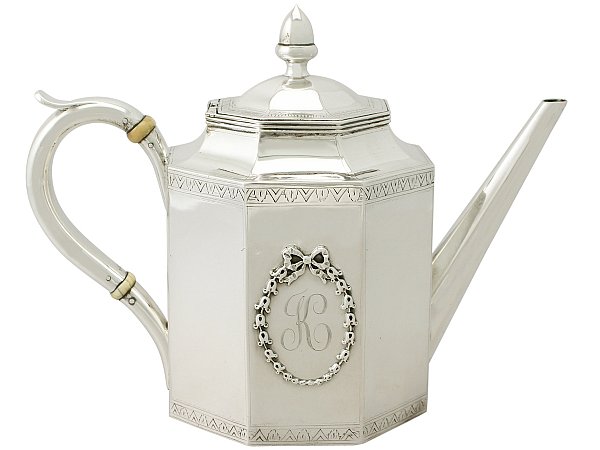 This particular teapot was very typical of the period and was similar in shape to a coffee or chocolate pot. The teapot, however tended to be very small due to the high cost of tea. There were two other silver teapots made around the same time (1670 and 1685) which were both more melon shaped; their compressed form made them no more than 6 inches high. They were most likely modelled on the Chinese earthenware pot which was increasing in popularity across Europe at the time.
In the early 1700s it was popular for the ends of the spout to be modelled in the form of a birds head. The lid would have been hinged, with the handle crafted out of polished wood, ebony or leather coated plain wood.
It was also around this time that drinking tea with milk became popular, creating the demand for silver tea services including milk/cream jugs and matching sugar bowls. Between 1690 and 1750 George Booth, the Earl of Warrington collected many silver teapot and tea sets with various accessories including strainer spoons, sugar tongs and "boats to hold the teaspoons."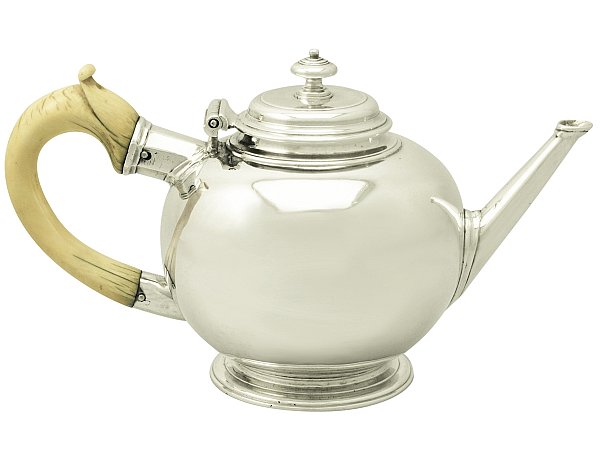 Between 1725 and 1750, a popular teapot shape was bullet-shaped bodied teapots. The French Rococo style also had a big influence on design - this meant elaborately decorative flowers, scrolls and spouts shaped like swirling dragons. As the century progressed, some examples were even crafted in octagonal shapes. By 1776 the 'Sheraton' style prevailed, succeeded by the Hepplewhite style in 1789. Both of these designs featured a straight spout.
During the eighteenth century the middle class in England was becoming more affluent and therefore demand increased for affordable luxury items, this was in order for them to display their increasing wealth. Fortunately, costs were decreasing due to the introduction of new production methods and the use of specialised craftsmen. Silver items such as teapots therefore, could be made more economically for a rapidly expanding customer base.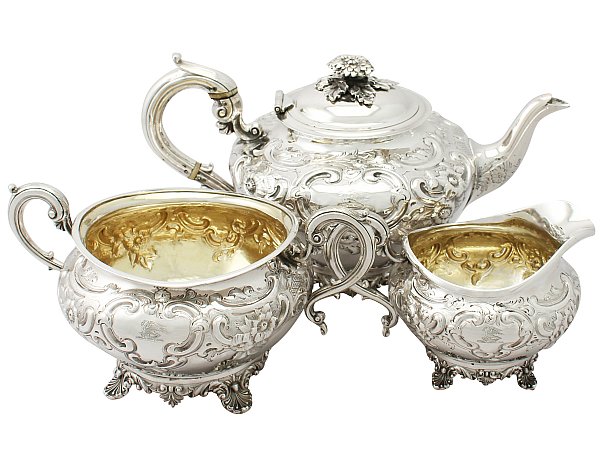 Teapots made in the late eighteenth century ranged in style from simple oval shapes with minimal engraving to elaborate serpentine forms with extensive ornamentation. It is possible that the new developments in manufacturing allowed the silversmiths more time to focus on the intricate embellishments and detailing, rather than the time consuming hammering they had to endure previously.
Why Silver Teapots?
Sterling silver is the perfect material for crafting teapots, as the natural properties of silver cause heat to be retained. Thus, tea brewed in a silver teapot will stay warm for much longer than if made from other materials.
A second beneficial property of silver is the metal has high thermal conductivity, therefore tea leaves are brewed at a higher temperature than with any other teapot. The higher the temperature, the more the tea leaves release their flavours within the brew. Of course, due to these high temperatures and silver's conductivity, the handles would be crafted from a different material such as wood so the pot could still be picked up. Alternatively, insulators/resistors (often made from ivory) would be added to the top and bottle of the handle to stop it conducting too much heat.
Another positive is that silver is very durable- unlike porcelain and ceramic- and when dropped or in a collision with another object it will not shatter or break. It may dent a little, but generally silver teapots are much more sturdy and long-lasting than other pots that are not made from metal.