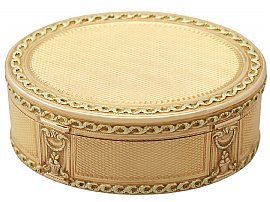 Snuff boxes are fascinating antiquities which serve as an aide memoire of a bygone age. Snuff was considered an aristocratic, luxury product, and our fine examples of antique snuff boxes in gold and silver reflect these sensibilities.
Snuff was finely ground tobacco which was enjoyed because of the quick hit of nicotine that it provided the user. During the mid-1600s snuff increased in popularity because it was believed that it was an effective preventative measure in warding off the plague.
Antique snuff boxes are wonderfully charming pieces which are usually highly decorated with delicate engraving, and we have many continental varieties from the Georgian and Victorian eras.
Learn more about the history of the snuff box