The History of the Bombe Ring
Bombe rings have a unique aesthetic which has evolved gracefully since they were first created during the Edwardian era. Over the decades, many people have opted for the eye-catching bombe style for their engagement ring, while others, especially later in the 20th century, have been drawn to this design when looking for statement dress rings, adorned with jewels.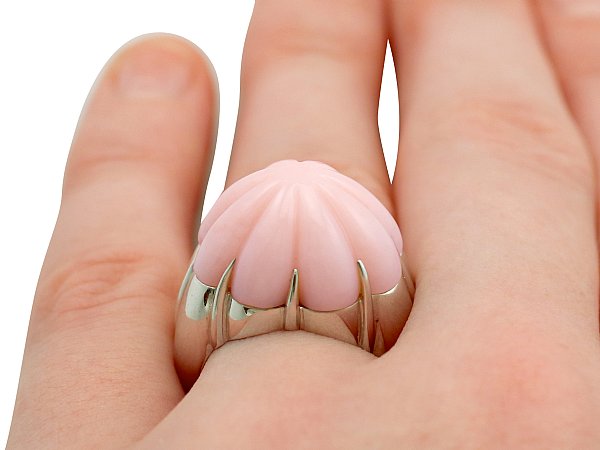 The origins of the bombe ring
Named after the late 19th-century French dessert, bombe glacée, bombe rings are usually smooth and rounded. The dictionary definition of the bombe shape is, 'curving or swelling outward' and this is exactly the aesthetic of antique and vintage bombe rings.
Bombe rings can also be referred to simply as bombes and they normally feature a large and impressive gemstone or, alternatively, an elaborate cupola design. The curved bombe shape allows enough surface space for a variety of creative designs. Because of this, jewellery makers have created many unique and unusual bombe style pieces over the years. Traditionally, bombe rings are worn on your second finger, but throughout the years they've also been favoured as engagement rings.
The history of the bombe ring
The bombe ring style originates from the Edwardian era, during which time they were most commonly manufactured using platinum - the newest precious metal of the time. Thanks to the fact that platinum is a particularly strong material, it was able to be worked into a wide range of shapes and designs - perfect for the bombe ring design.
During this early period, bombe rings were most frequently designed with intricate ornamentation, featuring delicate floral motifs and swirling, openwork designs.
When the Art Deco era arrived, the stylistic features of the bombe ring changed. Whimsical lacy designs were replaced with bold geometric patterns and monochrome colours. The straight lines of the Art Deco geometric designs contrast wonderfully with the curved shape of the bombe ring, creating a truly striking aesthetic.
Although bombe rings were growing in popularity throughout these periods, they didn't reach their prime until the 1950s and 60s. At this time, bombe rings became all the rage and many vintage examples that we see now originated during this surge in their popularity.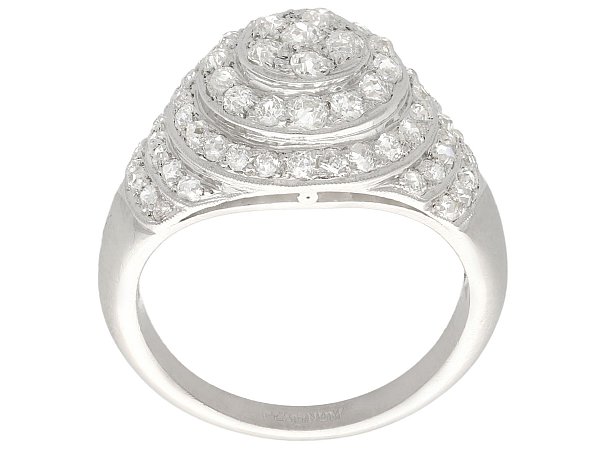 At this point, platinum was largely replaced by yellow gold in the bombe ring design, as the prominent jewellery styles drew influence from Hollywood glamour (an aesthetic that favoured yellow gold, often heavily ornamented with diamonds and other gemstones).
Designers such as Tiffany & Co played an important part in the surge of popularity of bombe rings. They set their bombe ring designs with a multitude of small gemstones, covering the entire curved surface of the ring.
How to style a bombe ring
Today, bombe rings are still a popular choice of jewellery, especially for those striving for the glamourous vintage aesthetic. By their nature, bombe rings are showstoppers, so they work wonderfully as standalone pieces - especially if you opt for an elaborate vintage gemstone design or a dazzling platinum Art Deco piece.
However, more refined bombe rings, such as those ornamented with pave set diamonds, work wonderfully as an eye-catching engagement ring and will look fabulous when paired with other, more simple bands of the same metal colour.