Sheffield Silver Hallmarks
Until 1974, the hallmark for the city of Sheffield was the Crown, although this was decided upon by the same counsel of silversmiths and businessmen that chose the anchor to represent Birmingham- the origins of these symbols and their connotations with their paired cities are not entirely clear. There is anecdotal evidence that the discussions regarding their burgeoning Assay offices in Sheffield and Birmingham were held in a public house named the Crown and Anchor- however we have no substantial record of this.
Sheffield Assay Office
The Assay Office of Sheffield has existed since the passing of The 1773 Act of Parliament which appointed 30 local men as 'Guardians of the Standard of Wrought Plate in the Town of Sheffield' to supervise the work of the Office, after the campaign led by Birmingham Silversmith Mark Boulton to create Assay offices outside of London and Chester.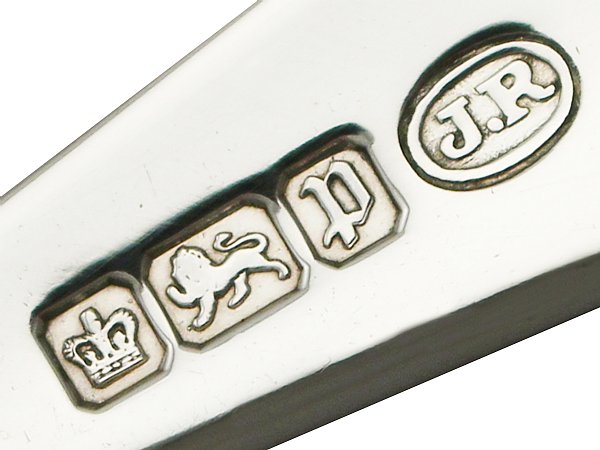 Precious metals such as gold, silver and platinum are too soft and malleable to use alone when creating pieces of jewellery or silverware. When they are alloyed with more base metals, such as copper, it is crucial that all maker, traders and consumers are aware of the composition- that is- the ratio of silver to other, less expensive metals, within the item they are buying.
This was even more of a pressing matter during the eighteenth century, when silver and silverware was used akin to currency rather than as merely an object of ornamentation. The principle of this standardisation across the country is the basis of the hallmarking system, and these are the standards which the Assay offices of the United Kingdom were created to uphold.
As early as 1773, Sheffield already had established a tradition of fine silverware production, so it was beneficial to all concerned that the number of Guardians who were also Sheffield silversmiths within the appointed 'Guardians of the Standard of Wrought Plate in the Town of Sheffield was restricted to just ten, so as to ensure that the decisions made were there for the benefit of consumer, not merely the tradesman.
Old Sheffield Plate Silver
The craft of covering a base metal with a precious metal - known as close plating - has been practised for centuries. The process involved the application of a thin sheet of silver or another precious metal, to a pre-formed vessel, using heat and a hammer. It was not until the mid-eighteenth century that a commercially viable variation, which became known as Sheffield Plate, allowed the large- scale production of plated wares for domestic use.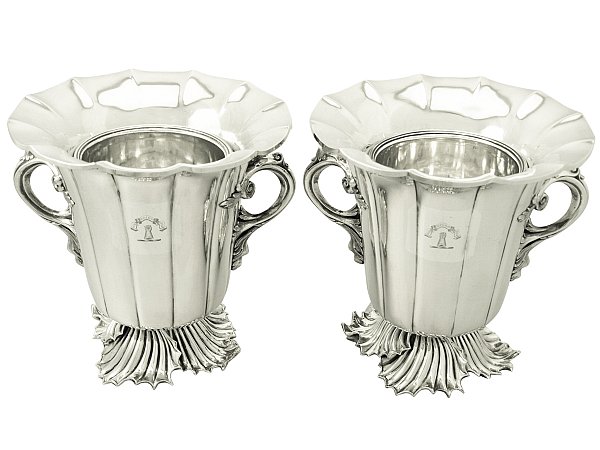 Sheffield Plate was formed with thin sheets of silver and copper annealed together under pressure before being made into the required object. It was wildly successful; because it could be used to produce a host of items - from a delicate button to grand candelabra - at a fraction of the cost of the solid silver equivalent.
Sheffield became the forefront of this new plating method after the developments of Thomas Bolsover in 1743, a Sheffield cutler, who – whilst working to repair a knife – found that under the correct circumstances of heat and pressure, copper and silver become inseparable. He began to use this new process to create small items such as buckles, buttons and novelty wares. After this there was considerable development in rolling mills and it was not long before small objects made from Sheffield Plate were being manufactured on a large scale.
After the 1840s and the advent of electroplating, materials other than copper were used as the base body material, the most popular being Nickel (sometimes known as German Silver) and Britannia metal was also used.
In England, Sheffield and Birmingham have been the greatest and most prolific manufacturers of Plate Silver, with Sheffield also housing the most famous of the silver plate manufactories - the Soho works of Matthew Boulton.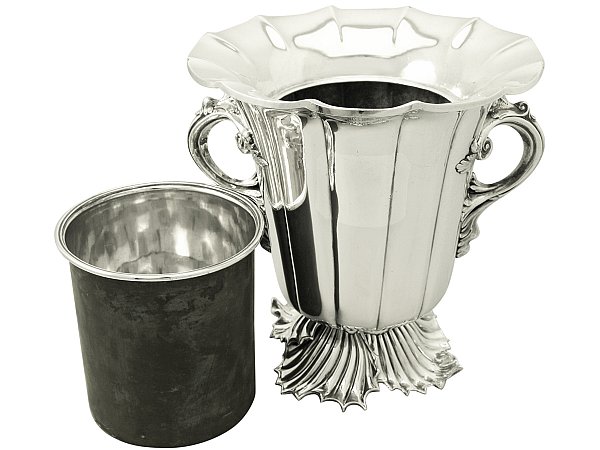 British Silver has had fastidious rules in place for centuries regarding the stamping of sterling silver, including the Assay Office from which the silver quality was verified, the maker's mark and the date of the piece, owing to the date letter, any piece of British sterling silver can be exactly dated.
Old Sheffield Plate and Electroplated silver were not under the same laws or rules of practice, and the regulations that were passed regarding electroplate and Sheffield plated silver were concerned with assuring that people were not being misled by a set of hallmarks which was not standardised in the same way as their sterling silver counterparts.
The best-known initiative is the prohibition which came into effect from around 1896 of stamping plated wares with the crown, to avoid any misunderstanding with the symbol identifying the Sheffield Assay Office, as the Maker Elkington had formerly been known to do.
Sheffield Silver
Sheffield was renowned for producing a superior quality of candlesticks, to the point where other silversmiths bought the Sheffield candlesticks and superimposed their own hallmarks on top.
Sheffield silversmiths have always been a large producer of cutlery and table ware, including large canteens and services. The nature of this type of silverware - being far more practical than many items - means that the demand and repurchasing of these pieces is high. Sheffield cutlery may be used every day, whereas decorative vases or ornamental pieces are rarely used and therefore suffer less wear, often lasting the owner a lifetime. This means that their silverware was bought by more people, rather than being an exclusive luxury item that only few people would buy.
Sheffield Silver Maker's & Sheffield Silversmiths
Mappin & Webb
Mappin & Webb was founded by Joseph Mappin in Sheffield in 1810. Although Mappin and Webb is not the oldest Sheffield Silversmith still operating, it has a rich history and reputation for quality and for famous customers. The earliest records go back to the year 1797, but the business was actually founded in 1775, when Jonathan Mappin opened a silver workshop in Sheffield. It was the second Joseph Mappin - a knife cutler - who began the business, with two other partners, as springknife manufacturers.
Mappin & Webb specialised at one time in Prince's plate, which is of a higher quality than most silver plate, as the process uses a triple deposit of silver and has a protective coating covering all vertices and edges on their pieces. The items they plate are guaranteed to be far longer lasting than other silver plating, and therefore wear more like sterling silver.
Walker & Hall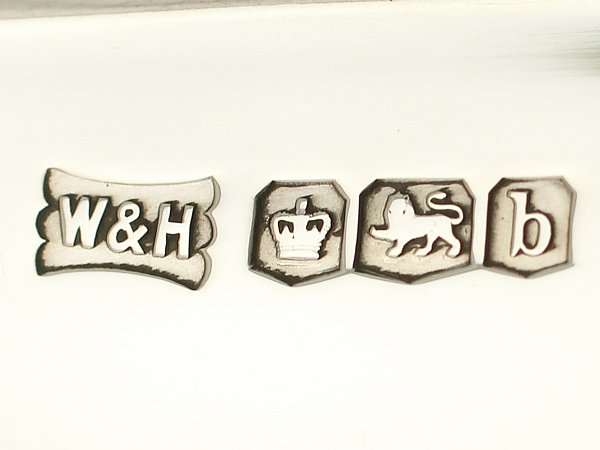 The origins of Walker & Hall began with John Harrison metal worker who took out the first licence in Sheffield during 1843 to make electroplated pieces. He employed George Walker to learn electroplating while in Birmingham. Walker did this, but two years later he decided to leave as John Harrison's employee and instead, began his own company. Walker & Hall was first established by George Walker in 1845, and in 1853 Henry Hall joined the business and thus the company became Walker & Hall.
Although the company began in Sheffield, they were truly an international business. Branches were opened in Liverpool, Edinburgh, Newcastle, Manchester, Leeds, Glasgow, Cardiff, Belfast, Hull, Bristol, Melbourne and Adelaide (Australia), Cape Town (South Africa). Walker & Hall became a limited liability company in 1920 under the name Walker & Hall Ltd, and joined Mappin & Webb and Elkington & Co. in 1963 under the British Silverware Ltd.
Walker and Hall Sheffield were Sheffield Makers, but some of their items bear the Birmingham, London and Chester Assay Marks. This is owing to the wide-reaching success of the company and their numerous branches across the UK.
Edward Viner (Viners Ltd)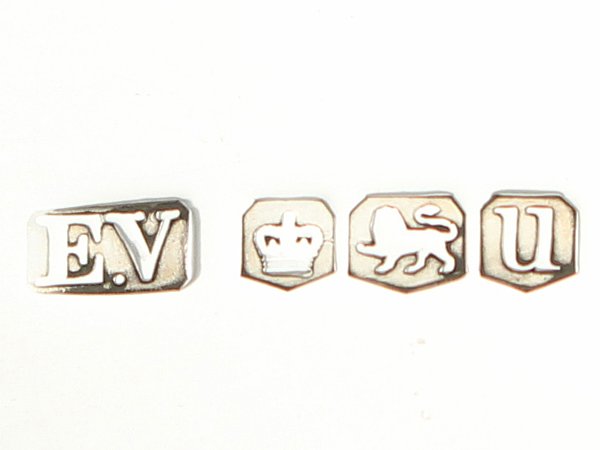 Viners specialse in Sheffield cutlery, kitchenware and dinnerware items, and was founded in 1901 by Adolphe Viener (also spelled Wiener after he was knighted by the monarchy) and his sons.
The company, which grew to be the biggest Sheffield cutlery, flatware and silverware manufacturer in England after World War II - during which the company produced bayonets - under the name Viners Ltd., were silversmiths who initially worked in traditional small workshops. The hallmark for Viners Ltd. silver was registered to son Edward Viner: in 1932 it was "E.V" with figures and in 1964, it was "EV" with associated figures.
The expansion of the company was driven by one of the Sons, Ruben Viner, during the twentieth century and the firm grew with subsidiaries in Ireland, France and Australia.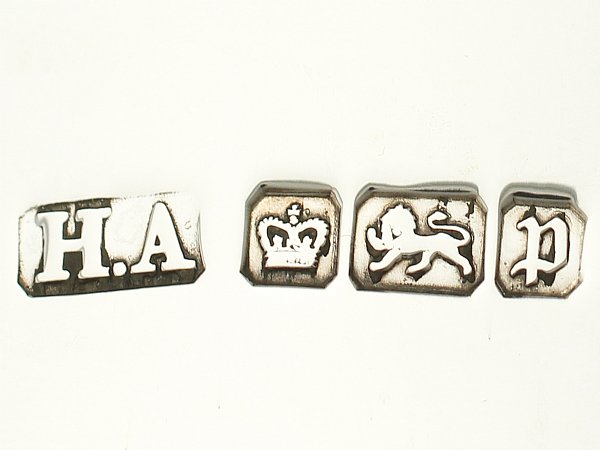 Atkin Brothers
The Atkin Brothers business traces his origin to Thomas Law, a silversmith active in Sheffield from c. 1750 to 1775. He was one of the only two firms combining the trades of cutlers and general silversmiths. The firm opened their offices in London, managed by Harry Wright Atkin, and in 1925 became Atkin Brothers Ltd. Atkin Brothers took over the firm of Thomas Bradbury and Sons in the 1940s. Atkin Brothers, Elkingtons, Gladwins, Mappin and Webb, and Walker and Hall all became part of British Silverware Ltd in 1963. This business was discontinued in 1971.