Jewellery of the Romantic period
During the sixty-four years that Queen Victoria was on the throne, many design trends came in and out of vogue. Because of this, historians split the Victorian era into different periods: the Romantic/Early period, the Grand/Middle period, and the Aesthetic/Late period. Each of the different stages offered up a wealth of new designs, motifs and materials, resulting in a vast array of exquisite jewellery from the Victorian era. .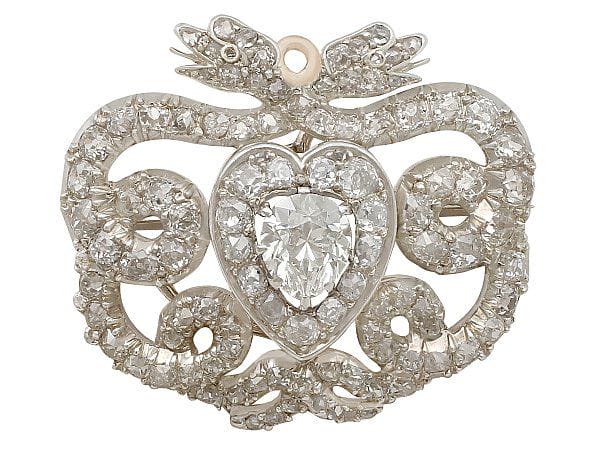 What was special about the Romantic Period?
The first portion of Queen Victoria's reign (from 1837 to 1860) was characterised by sentimentality, courtship and romance. The jewellery designs from this period reflected the mood of the country, as well as the life stage of the Queen herself. As she was a young Queen, the first portion of her reign was partially distinguished by her courtship with Prince Albert, who she married in 1840. His death, in 1860, signalled the end of the romantic period and aesthetics evolved as her reign progressed.
Because of the queen's courtship with Prince Albert, jewellery design in the early Victorian period often revolved around new love and budding romance. However, there were also many other influences at play. Jewellery designers working in this period were also inspired by the sense of nostalgia for the Middle Ages, which permeated through early Victorian society. As well as creating designs inspired by this period, Victorians also loved partaking in Middle Ages-themed activities, such as re-enacting tournaments and historic building tours.
The increased opportunities for travel also influenced Victorian jewellery and design. Thanks to improvements in technology, more people were able to travel by train and tour Europe. This widespread mobility allowed for an influx of inspiration, motifs and materials from Europe and beyond, such as lava cameos from Pompeii and enamelled plaques from Switzerland.
Materials and techniques
In addition to being shaped by historic and cultural influences, Romantic period jewellery was also defined by the materials and techniques available to the jewellers. For instance, jewellers of this period were restricted by law regarding what gold standards they could use. Up until 1854 (when other standards were legalised), the only two gold standards allowed for hallmarking were 22 carat and 18 carat. Therefore, the antique jewellery crafted during this period would mainly have been composed of high carat gold, a mix of different coloured golds, and silver. Metalwork was at the heart of many early Victorian jewellery designs and intricate techniques such as Repoussé and cannetille remained popular after the late Georgian period.
A variety of different options were popular during this time, but the favourite gemstones of the Romantic period included agate, amber, amethyst, chalcedony, chrysoberyl, diamond, emerald, garnet, malachite, seed pearls, quartz, topaz, and turquoise. At this time, it was popular to design a jewellery piece using a variety of gems, such as a piece of acrostic jewellery, in which the first letter of each gemstone spells out a word. Pearls were also extremely popular during this era and small seed pearls were often arranged to form designs that resembled bunches of grapes.
As well as the popular materials, jewellery designs were also characterised by the techniques used by jewellers at the time. During the early Victorian period, all jewellery pieces would have been completely handmade, but new innovative techniques were becoming more common. Electroplating was becoming a popular technique, making the production process faster and more affordable. Later, in 1852, hand-operated presses were invented, which sped up the process even more. Thanks to these innovations, jewellery was gradually becoming more accessible to the masses. As a result of this, more jewellery was produced in the 1800s than in all the time before it.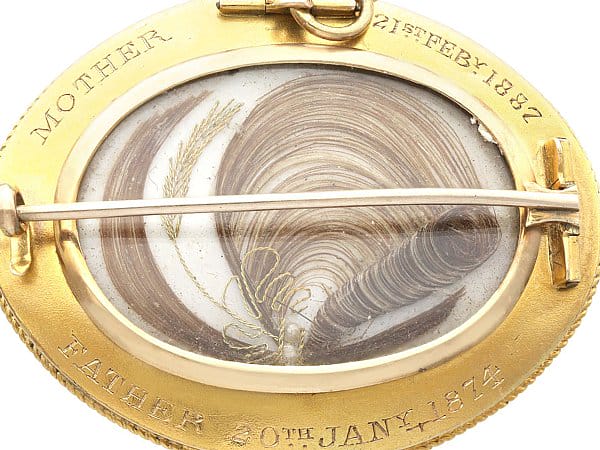 Motifs and themes
During the Romantic era, jewellers were inspired by many themes, including the natural world and symbols relating to romance (like hearts and bows). Serpents, which were thought to symbolise wisdom and eternity, were also a very popular motif used in jewellery at this time. This popularity was encouraged when Queen Victoria received a serpent themed engagement ring from Prince Albert. Flower motifs were also chosen for their symbolism, such as the popular eastern-inspired lotus flower, believed to represent purity and enlightenment.
Another dominant theme was sentimentality, which led to the rise of sentimental mourning jewellery. Mourning jewellery was used to pay respect to loved ones who had passed away. The pieces often included woven hair – a technique that women were encouraged to learn so that they could create pieces for their own families. One famous example of this was a portrait of Queen Victoria that was created using woven hair and displayed at the 1855 Paris Exposition.
In addition to mourning jewellery, cameo jewellery was also extremely popular during the Romantic era. During this time, cameo brooches, bracelets and pendants were crafted in extremely high relief, carved into materials such as shell, onyx, dyed chalcedony and amethyst, Queen Victoria famously adored cameo jewellery, hence this style's resurgence during her reign.
A lot of the prominent jewellery styles of the period stemmed from the Queen's personal interests. Another example is the prominence of Scottish-inspired jewellery, which became popular after Queen Victoria purchased Balmoral castle in1852. Scottish-inspired pieces often featured motifs such as thistles, scrolls and chevrons, and featured elaborate engraving.
The jewellers of the Romantic period were inspired by a wide breadth of cultures, places and styles, making the jewellery of this time both eclectic and unique. To see some examples of such beautiful historic pieces, discover our range of Victorian jewellery at AC Silver.