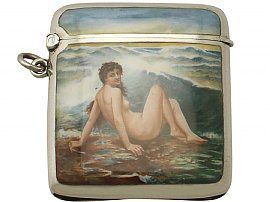 Vesta cases are a particularly interesting type of antique silver, as they were created in a specific time frame during the Victorian era when matches were a necessity before electric light and lighters, and shortly afterward became obsolete.
This makes them rare pieces, and especially collectable. Vesta cases were a necessity due to the possibility of spontaneous combustion, owing to the fact that early match heads were covered in sulphur, which â€" with the friction of being carried in the pocket â€" would mean that they could alight and be devastatingly destructive.
The small metal cases contained the matches, and often a striking strip with which to light them, while protecting the carrier.
Vesta cases are a wonderful example of antique silver and gold with a rich history, whilst being attractive and colourfully decorated, making them the perfect gift or piece to collect.
Read more on the history of the vesta case