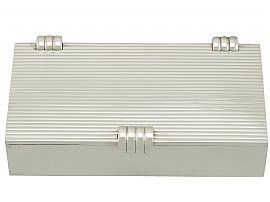 Here at AC Silver we are able to offer our customers a wonderful selection of antique and vintage cigar boxes and cases.
Our collection of silver cigar cases and boxes includes pieces from many different countries and eras, with exceptional examples of Edwardian and Victorian cigar and cigarette cases as well as more modern silver cigar boxes in Art Deco styles.
Whether you prefer modern, simplistic boxes or highly decorated and ornamented, we hope that you enjoy browsing our impressive range of cigarette cases and cigar boxes, and find something which suits your personal tastes.
Learn more about the history of cigar cases