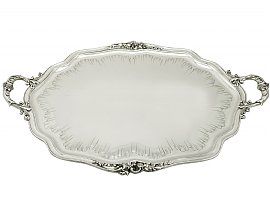 AC Silver is pleased to offer a fine range of vintage and antique silver drinks trays, snuffer and gallery trays for sale.
The diverse tray collection includes pieces crafted in English sterling silver to trays produced in continental silver.
Our selection of silver drinks trays, gallery trays and snuffer trays make for wonderful gifts, and are a perfect accessory in any home.
Our range includes examples from the Victorian and Edwardian eras in addition to vintage Elizabeth II pieces.