The History of Dress Clips
Dress clips – sometimes referred to as clip brooches – are stunning pieces of jewellery. Acting as a time capsule, they memorialise a specific era in jewellery history.
What are Dress Clips?
Dress clips are a type of brooch. What makes them distinct from a typical brooch is their fastening. Clip-backed brooches can come in two varieties; one with a hinged clip that has two points, allowing it to be held firmly in place, and another featuring two-sided grips, allowing the brooch to attach more like a claw. The key difference between a regular brooch and dress clips is that dress clips come in pairs.
Versatile pieces, dress clips can be worn a variety of ways. One such way is as two separate clips, usually on either lapel of a jacket or straps of a dress. Another way dress clips are worn is as a single, combined brooch. Dress clips can be affixed to one another to create a single, large brooch, with some of them having three distinct parts, where each end of the brooch is a clip and the central element is a separate bar brooch that can be combined to be one extravagant brooch.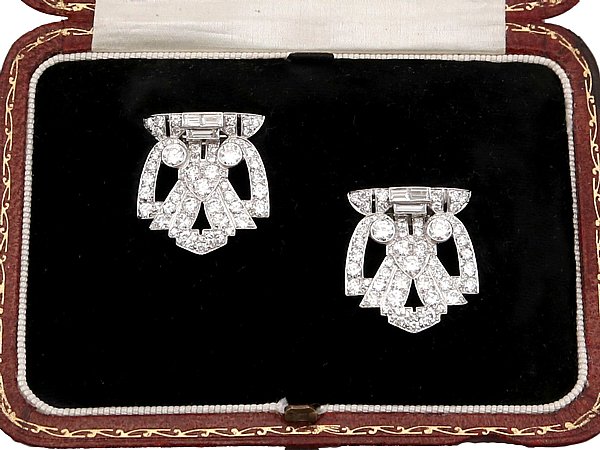 The History of Dress Clips
The first designs of dress clips came in the 1920s. After the Great War, Western economies were surging, ultimately leading to what's now known as 'the roaring '20s'. The Edwardian fashions, such as corseted dresses and floor-length gowns, had passed, replaced instead by less restrictive clothing. The fashion trends entering in the 1920s impacted the types of jewellery that were fashionable, with an enormous uptick in the popularity of Art Deco designs.
These designs were the ideal template for the invention of dress clips, symmetrical, structural shapes that would be easy to divide into two or even three parts. The romantic fashions sense of the 1920s, with its bold new look on everyday clothing, led people to want more ornamentation for their clothing. The brocade and velvet fabrics of the past made way for plainer clothing; hence accessories were used to elevate something everyday into something more awe-inspiring.
Dress clips served a purely ornamental purpose, having no practical origins from the 1920s or any earlier point. Instead, they accented dresses, handbags, furs, and even shoes on occasion, although shoe clips soon took their place.
It is a testament to the vitality of the 1920s economy that something as purely decorative as dress clips were made by high end jewellers such as Cartier and Van Cleef & Arpels, using valuable materials like diamonds and platinum.
The film industry of the 1920s also played a large part in the popularity of dress clips. Massively influential celebrities like Greta Garbo and Marlene Dietrich appeared on the silver screen sporting dress clips, and so people were more inclined to get their own. In the 1920s and '30s, dress clips were widely regarded as a must-have accessory.
World War II
Dress clips saw a massive decrease in popularity at the advent of the Second World War. People were forced into prioritising what was practical and essential, and dress clips were neither. Furthermore, the platinum that had previously been used to manufacture high-quality jewellery of all kinds was diverted to be utilised by the military. While women were not buying more dress clips, the ones they owned served useful in adding some glamour to a bleak time. Often, dress clips were used to elevate a daytime dress into something suitable for the evening, meaning it wasn't necessary to buying a new dress - an important factor of wartime life.
By the end of the war, fashions had changed, and so dress clips never saw a true resurgence in popularity. Today, however, there are many enthusiasts and collectors who thoroughly enjoy dress clips. Having their moment in the sun in such a distinct period of time, namely the 1920s, 1930s, and early '40s, dress clips are excellent pieces of jewellery for those interested in Old Hollywood glamour.
How to Wear Dress Clips
Most often, it would appear that dress clips were worn symmetrically along the neckline of dresses, particularly those cut in the sweetheart style. They could also be used to accent different items of clothing, such as a hat or a fur stole - although there were special 'fur clips' for this specific purpose.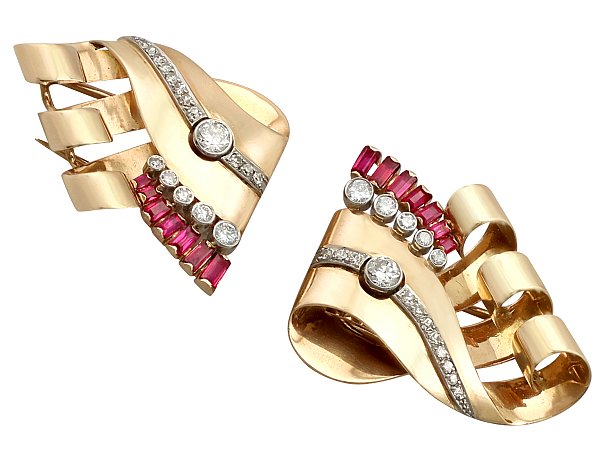 Some examples of dress clips show one singular clip that was intended to accent a dress with an asymmetrical neckline, or even the deepest part of a plunge or sweetheart neckline where only one clip would look correct. Those wanting to immitate the style today will find that sweetheart, slash, and boat necklines are the most well-suited to dress clips. Beyond that, they can be worn on either side of a hat, or at the fastenings of a cardigan or jacket.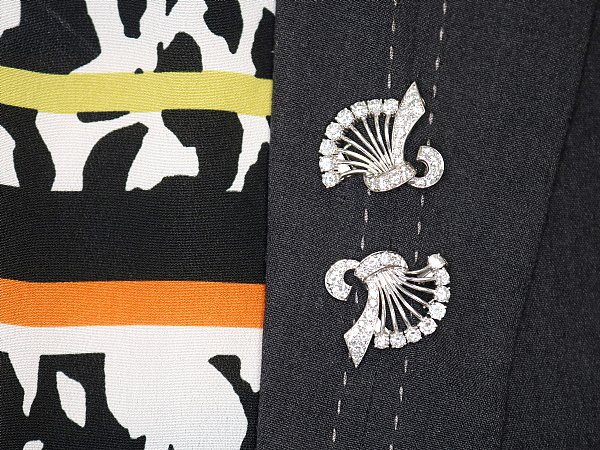 Dress Clips vs Shoe Clips
It is a simple mistake to interpret dress clips and shoe clips as interchangeable items; they are both similar in size and often in shape, usually coming in pairs. The difference can be found in the clips themselves, however. The fastening of a dress clip can be seen either as the more traditional brooch and pin style fastening, or in a small lever-back fastening, with the lever featuring grips similar to the studs of a football boot in order to keep its grip on the fabric of the wearer's clothing.
Shoe clips, however, have a single type of fastening. The fastening of a shoe clip is a small, strong, U-shaped clip that slides onto the rim of the shoe. They are designed this way in order to prevent damage to the fabric of the shoe, which was often leather or satin. Most often, shoe clips were worn on the front of the shoes, and came in a variety of shapes and styles that ranged from the more diamond-studded to a variety of shapes made from leather such as bows and flowers. The intention behind shoe clips was to allow the wearer to appear as if they own multiple pairs of shoes, despite most likely only owning one or two due to the wartime rationing.