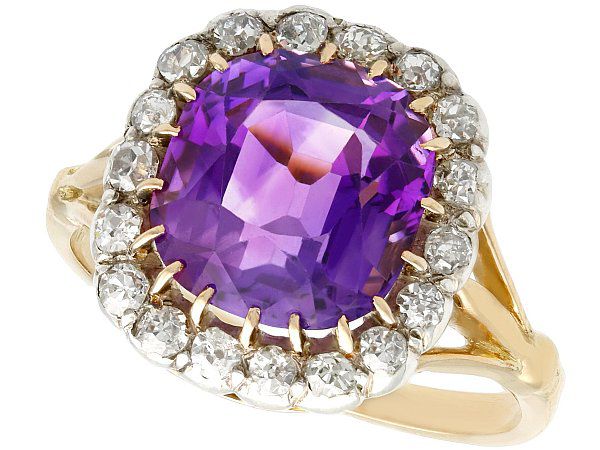 Amethyst is a popular gemstone thanks to its unique and vivid violet colouring. It is this colouring that gives amethyst the connection to royalty, elegance and glamour.
The birthstone month represented by amethysts is February. This also means that amethysts are a fitting gift for Valentines Day. Vintage amethyst rings are an excellent choice for a February birthday, or even for more formal occasions. Amethysts are suitable engagement rings, with antique amethyst rings making for unique and expertly crafted engagement rings that have already stood the test of time.
Our collection of antique amethyst rings includes pieces accentuated with diamonds and antique precious metals for that added touch of flare.
The vibrant purple colouring of amethysts sets them apart from other gemstones. If a you or a loved one have a passion for purple, amethyst jewellery such as amethyst cocktail rings can make an excellent gift. Furthermore, jewellery collectors and antique enthusiasts can greatly benefit from our selection of Victorian amethyst rings.
These pieces are full of personality and make the perfect addition to any jewellery collection.
The Meaning of Amethysts
Amethysts are a violet variety of the quartz sub-section of gemstones. The name amethyst is derived from the Greek words 'amethystos' and 'methysko' which loosely translate to 'not intoxicated'. It was a long-held belief that the wearing of amethysts could prevent the wearer from becoming drunk. Drinking vessels were even accented with amethysts in order to further promote the supposed sobriety of the drinker.
It is believed by some that amethysts hold fire and passion within them, allowing the wearer to channel their creativity and spirituality whilst also maintaining the aforementioned sobriety. Amethysts are also stress relievers - according to some - soothing physical pain with their presence.