What is a Spray Brooch?
Spray brooches have been popular since the Georgian era, and with their sublime design, it's easy to understand why. Here, we will discover more about the impressive spay brooch design, as well as the brooch's place in history as a whole.
A brief history of brooch styles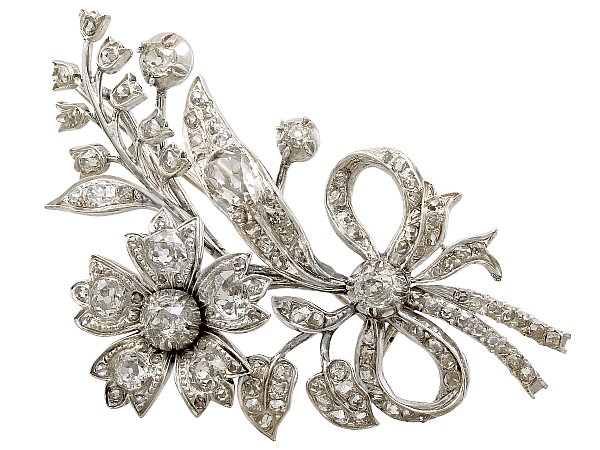 Brooches are one of our most long-standing jewellery traditions, having been around since ancient times. Originally, they were designed for a purely functional purpose, namely to fasten and secure clothing.
Since then, brooches have come a long way and they are now an essential part of anyone's jewellery box. Throughout the ages, they have been crafted using a variety of materials, in a wide range of designs. During the Georgian period, foil brooches saw a surge of popularity; Aigrette brooches reigned during the 17th century; spray brooches and mourning brooches triumphed during the Victorian era; and bright gemstone brooches rocketed to success during the 20th century.
Victorian brooches, Art Deco brooches, and other antique brooches all have unique histories and designs, but today, let's find out more about the spray brooch.
What is a spray brooch?
Delicate, feminine, and captivating, spray brooches are a beautiful addition to any jewellery collection. Traditionally, spray brooches consist of intricate floral designs, often mounted in the En Tremblant style. Spray brooches most frequently consist of a range of small diamonds or coloured gemstones, which are crafted to catch the light and create a sublime sparkle.
Traditional spray brooch designs are normally inspired by nature, with floral and foliate motifs being the most popular spray brooch theme. A full bouquet of flowers is a popular choice, whether it be crafted using diamonds, or a variety of gemstones to illustrate each individual flower.
The Meaning of En Tremblant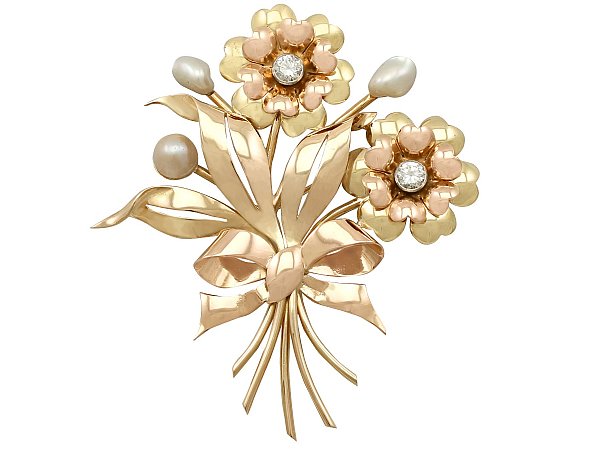 Spray brooches are sometimes also referred to as En Tremblant brooches. However, the French term 'En Tremblant' actually refers to the way a piece has been mounted, and although the style is mainly associated with brooches, it is not exclusive to the spray brooch style.
In French, En Tremblant means 'to tremble'. In the case of the spray brooch, this means that the centre of the floral bouquet is attached to a small spring-like mechanism that allows the brooch to move slightly when worn.
Spray brooches set in the En Tremblant style were particularly popular during the 18th and 19th centuries as the trembling effect was most striking when the brooches were worn by candlelight. After the invention of electricity, En Tremblant settings weren't used quite so frequently.
How to style a spray brooch
Although the classic spray brooch style is most associated with the Georgia and Victorian eras, there are also many more modern variations on this design, making it easy to find a spray brooch that aligns with your particular fashion and is easy to style.
Art Deco spray brooches, for example, offer a modern twist on the original style and they're perfect to pair with a smart clothing and geometric prints. In addition, vintage spray brooches that more commonly incorporate brightly coloured gemstones and yellow gold (in contrast to the antique Victorian and Georgian styles which favoured diamonds and white gold) offer a great way to add a bright, statement piece to your outfit.
To find the perfect piece for you and discover the wide variety of spray brooch styles available, view our collection of antique and vintage spray brooches at AC Silver today.