History of the Spirit Kettle
A spirit kettle is a teapot or kettle that sits upon a stand and has a burner beneath it. It is aptly named 'spirit' kettle because the burner often used spirits to fuel a flame. Sometimes spirit kettles come with a tray to prevent drips and heat reaching the table. Most spirit kettle stands had three or four legs, with the burner situated at mid height between the legs, allowing the presence of the flame to be seen. Some spirit kettles are attached to the base and burner with a chain, secured by a removable locking pin (pictured). Although the form of the spirit kettle does vary, there are some common shapes to the teapot on top of the stand; they can be pear shaped, bulbous, bullet-shaped, oval, spherical, or melon-shaped.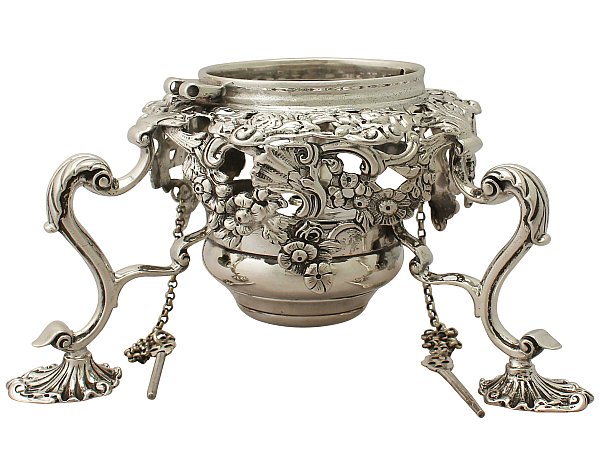 The earliest reference to a spirit kettle is in the year 1687, yet rose in popularity during the reign of Queen Anne. During this time these extravagant kettles became an indispensable accessory to any elaborate formal tea party. The reason behind this is not just the aesthetic appearance of the silver spirit kettle; which was usually highly ornate and decorative, nor was it that some spirit kettles matched the overall design of the tea set; which was often the case. It was instead that the spirit kettle served a very utilitarian purpose, and they were originally used to replenish the teapots when brewing tea. Teapots at this time were usually rather small, due to the luxurious and expensive nature of tealeaves, thus the teapot often needed to be refilled.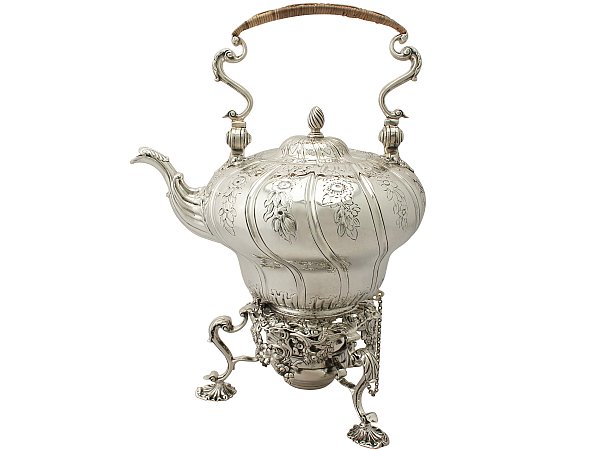 It would seem that the spirit kettle fell into disfavour around 1770, due to the introduction of the tea urn (sometimes referred to as a samovar - pictured). Tea urns were used for the same purposes as the spirit kettle, to warm water in order to replenish water in the teapot. The tea urn is fitted with a tap at the bottom of the body and stands on a base.
It was in the Victorian era when spirit kettles were reintroduced and this resurgence was possibly due to the discovery of odourless spirits for the burner.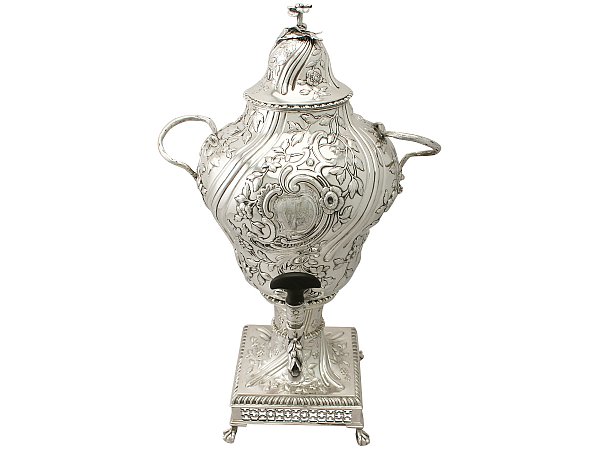 A Small Selection of Items: