History of Irish Silver
Irish Assay Offices - Early History
The tradition of Irish Silver dates back to the 13th century when goldsmiths were first practicing in Dublin. This was the first Irish city that established a guild/company (1498) and a town mark. It was in 1605 when hallmarks first started appearing on Irish silver plate. Dublin plate would be branded with the town mark (a crowned harp) and a makers mark.
Upon the reign of Charles I, a new standard was declared that governed Irish silver. This rule stated that no Irish silver could be of a lesser fineness that English silver- controlling the quality of plate produced. A further law in 1729 was established to make sure hallmarks were added to Irish plate. This law stated that silver must be assayed by an assay master. Furthermore, it must incorporate hallmarks, a maker's mark, the date letter and the crowned harp.
A year later, in 1730, a fourth stamp was introduced. This mark was the 'figure of Hibernia'. Hibernia is the female natural personification used to represent Ireland (equivalent to Britain's 'Britannia'). This mark was added by order of the Commissioners of Excise to assure that duty had been paid.
Yet another change to the Irish hallmarking process occurred in 1807. This was during the reign of George III. At this time, it was decided that the sovereigns head must be stamped on all silver as a duty mark. This tradition was only enforced up until 1890.
The Dublin Assay office is the only remaining assay office in Ireland today. It was first established in 1637, when it supervised the assaying of gold and silver throughout the Kingdom of Ireland. Up until 1806, silver crafted in Dublin could be identified by its town mark: a crowned harp.
Prior to 1923, Dublin had to comply with the same silver marking laws which governed England and Scotland. Upon the formation of the Free State (1922) however, the laws regarding silver production were governed from within Dublin. Despite the change of order, hallmarks remained mainly unchanged over this transition. Since 1963 the town mark for Dublin has been a solitary harp.
The assay office in Cork never had an established date letter. Prior to 1715 a town mark was used in the production of Cork silver. Pieces would be branded with the city arms: a ship in full sail between two castles (sometimes also including a heraldic icon). After 1715 however, Cork silver was marked only with the maker's initials, the word STERLING (sometimes corrupted to stirling, starling, sterlin, starlin or ster), and the word DOLLAR (used in place of a town mark). The origin of the latter mark was from 'doolar', which signifies that the silver was used for plate. This word was chosen as most silver used for plate came from melted down Spanish silver dollars.
Other assay offices include Limerick, which was established in the 17th century and marked its silver with the fleur de lis. Established during the same century, the Youghal office used the town mark of a masted ship. Similarly to Dublin, the assay office of New Geneva used the mark of a harp. This small village near Waterford was named as a result of the community of Genevan watch makers who chose to settle there.
Clonmel, Waterford, Mullinger, Kinsale, Kilkenny and Drogheda all made plate, which was assayed at Dublin.
Travelling with assay-marked silver in 18th century Ireland was dangerous, as thievery was a likely occurrence. Each piece of assay-marked silver also incurred a duty of sixpence, which could build up very easily. For these reasons, properly hallmarked items of silver were the exception rather than the rule in Ireland at this time.
As early as 1710, silversmiths in areas like Cork and Limerick were stamping their wares with the words 'sterling' rather than the crowned harp of the Dublin assay office. Others only used makers' marks, also bypassing assay marks that were technically required of them.
The Act of Union in 1800 made it cheaper to import silver from Sheffield and Birmingham, rather than trying to target legislature towards the duty-dodging Irish silversmiths. As is to be expected, this eventually led to the death of the Irish silversmiths. In 1853, the last silversmith left Cork, destined for Australia, though tragically he drowned in the journey.
Similarly to provincial silversmiths in other countries, Irish provincial silversmiths' lack of assay marking does not equal a lack of quality in their items. Contemporary analysis suggests that – on average – Cork wares from this period are more compliant to the sterling standard than those from Dublin.
In present day, somewhat predictably, wares from Cork are far scarcer than any silver items from Dublin. Pieces originating from other provincial areas such as Limerick are counted in their tens, rather than their hundreds or thousands. This rarity does create a significant appeal for those collecting provincial items, however. Having an item that no-one else possesses generates an exclusivity that is very alluring to collectors generally.
Another aspect of provincial Irish silver that makes it an attractive collectable is its unique styles. While many of the pieces were clearly influenced by broader European styles of the time – although maybe slightly behind the most fashionable trends – the Irish silversmiths brought their own flair to their creations, and they rarely just copied the popular pieces directly.
Due to their contemporary popularity, fakery is often inspired by these pieces. If it becomes too commonplace, this fakery can actually bring the price of an item down. Another issue that provincial Irish silver faces is the practise of removing certain design aspects to make the items more in-line with popular styles. This mostly happened in the Victorian period, where removing designs from English silver items was usually too expensive, but often the expense was worth it if the pieces used were the – already less valuable – provincial Irish pieces.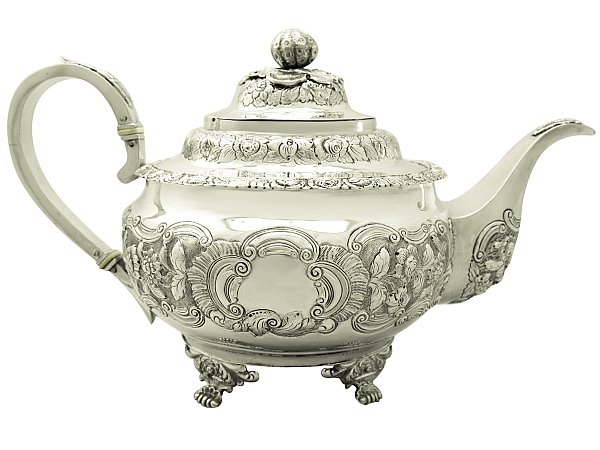 Today, provincial Irish silver is still a valued collectable, but it generally holds less value than Irish pieces with well-known makers and official assay office hallmarks, such as those pieces from Dublin.
Please feel free to browse our Irish silver items at your lesiure.