History of the Snuff Box
What is a Snuff Box?
Any powder that has been prepared for sniffing can be considered 'snuff', however snuff most commonly refers to powdered tobacco.
The consumption of snuff was first documented in the late 1400s, and was greeted by a very mixed reception. Snuffing (inhaling snuff) was first witnessed by a European in 1493, when Friar Ramón Pane, who had arrived in the new world courtesy of Christopher Columbus, was living as a missionary among Haiti's indigenous Taíno. Tobacco had been more or less unknown to Europeans prior to this, but the use of it rapidly increased in popularity during the 1500s. Inhaling snuff became established in England during the reign of Charles II (1630 -1685) at which stage it was acceptable for even ladies to take it. By the 1700s, snuff was the approved tobacco product favoured by the nobility.
By the late 17th Century, ornate boxes were being produced to keep the precious snuff dry. Throughout European and colonial history in the 18th and 19th centuries, the snuff box was a major - often bespoke - essential personal possession, made in a variety of materials, from gold and silver to tortoiseshell or horn. Snuff boxes are made in two sizes: small boxes for the pocket, and larger, communal boxes made for table use. Pocket boxes are usually made to hold a small amount of snuff for immediate consumption, and are intended to contain a day or two's supply.
The shapes of these boxes were not limited to simple rectangles. Porcelain containers resembling trunks were common, as were ovals. Some boxes were also designed in the shape of shells, although this style was rarer. Further decoration adorned some snuff boxes; sometimes they were hand painted, depicting everything from miniature landscapes and bucolic scenes, to tiny portraits or grisaille cameos of their owners. Some of the most distinguished snuff boxes were the French tabatières, which were made from gold and set with diamonds, amethysts, and sapphires. They were often engraved, chased or enamelled.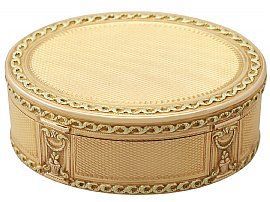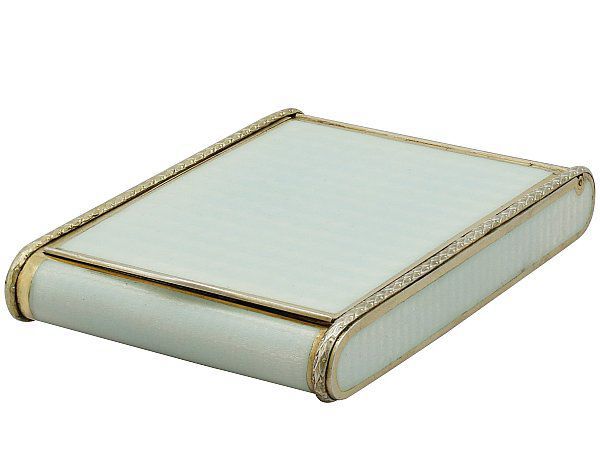 Antique silver snuff boxes are usually associated with Sheffield, England, where silver-plating technologies were perfected on these diminutive containers in the late 18th century. By the early 19th Century, Birmingham, England had developed a blossoming silver industry, where craftsman such as Edward Smith, Samuel Pemberton, and Nathaniel Mills, produced oblong containers with images of castles and abbeys on their tops and sides.
The snuff mull is a specific type of snuff box which was fashioned out of horn, with a metal lid; they originated in Scotland in the early 19th century. The phrase 'snuff mull', is likely a reference to the hand mills in which snuff was ground. It has been suggested that early Scottish horn boxes had grinding ridges on their inner surfaces and that the 'carotte', or twist of tobacco, was turned against these ridges, 'milling' the snuff. The exact origin of the word 'mull' remains unclear, but the true value of a snuff mull is inarguably in its appearance. Their horns can have alluring shapes, plaques, decorative hinges, and engravings. Many have silver tops fitted with a range of gemstones. Mulls range in sizes from tiny to large horns meant to sit on a table, with some even consisting of an entire ram's head as a focal point.
The quintessential feature of a snuff box/mull is that it must be airtight, with a flat lid – if the lid becomes dislodged, the snuff inside becomes compromised by the oxygen – although it should be considered that wholly air-tight boxes are a rarity.
The main feature of a snuff box/mull is that it must be airtight with a flat lid – if the lid budges, it contains unwanted air- although wholly air-tight boxes are a rarity.