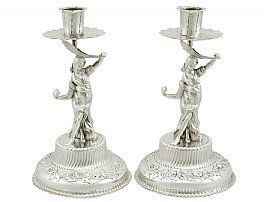 Tapersticks (often referred to as taper candlesticks) are miniature candlesticks designed specifically for holding thinner, tapered candles.
At AC Silver we are have a refined collection of fine antique silver tapersticks in many decorative styles, sizes and forms including figural tapersticks.
Tapersticks are less common than regular candlesticks, often found in singles, with pairs of tapersticks retaining a much higher value.